First U.S. Padel National Team tryouts set to begin
SPRING, TX – Haven't fulfilled your dreams of being an Olympian or playing at Wimbledon? Now is your chance to bring home some medals.
Trials for the first U.S. Junior Padel National Team are about to begin, and the path to glory starts right here in the Houston area.
"Padel is a new sport,' says Mike May, President of the U.S. Padel Association. 'It's really a combination of racket ball and tennis. The United States has been competing in the world adult's championships since 1994, almost when they began. But this is the very first Junior World Championship team that the U.S. is putting together."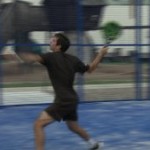 Padel is very popular in Spain and throughout Latin America. Even tennis star Rafael Nadal masters it.  Players 18 years of age and under are welcome to show their best shots at "The Club" near The Woodlands, as well as other locations across the country to be determined.
"There are things that you can do around those walls that are pretty spectacular,' enthusiastically explains Fernando Alarcon, Director of the U.S. Junior Padel Team. 'I would encourage everybody just to come out and try it. If you have a background with a racket sport… anything… tennis, racket ball… the opportunity of representing the U.S., that's a big honor."
Claudio Trevisan, who's currently coaching potential team members said, "training will be intensive, and we'll work all aspects of the game: technique, tactics, physical performance and mental preparation."
"I always thought I was gonna play tennis," says padel player Chris Lindsey, "but when I heard about the chance to play for the U.S. I thought… it's a great opportunity and I wanna take it."
So now you now: padel could be your golden ticket to the sports hall of fame. But if you're just a sports enthusiast, beware: it's addictive.